Best Garbage Disposal Air Switches Reviews 2022
Using a garbage disposal isn't for the timid. When washing up, you're dealing with food particles, water and soapy suds all around. To activate the garbage disposal unit, it's necessary to reach and touch an electrically connected button. Just like with the safely issues of a light switch in a bathroom, there's the risk of wet hands connecting to electrical circuits. It's altogether risky for your safety and not just a little bit concerning! Previously, this was unavoidable. The electrical connection had to be made between the hardwired switch, the electrical cabling and the power unit below. Doing it any other way wasn't possible and when it became possible, was just plain unaffordable. However, now that's all changed with the advent of affordable air switches that forego the electrical wired connection altogether.
Now it's possible to place an air switch atop of countertop and connect it through to the underside. Any reasonably sized round hole in the countertop is likely to be suitable for installation. When activated, the switch sends a volume of air downwards through a tube to the power supply designed to receive the air and treat that as the trigger to either turn on (or off) the garbage disposal unit.
Now that it's been made a little clearer what exactly is an air switch, we can now procced with details about the various features of an air switch. This way, you can better understand what ones actually matter, how to look at them and what model is the right one for your kitchen.
Comparison Chart Of Best Garbage Disposal Switches
###########
Features of Air Switches
There are different features of air switches that it's useful to be aware of before deciding which one to purchase. This avoids making a buying mistake, having to return the item, and then choose again. So, we hope this is useful for you.
Reliability
Given that an installed garbage disposal is likely to be used one or more times every day, the switch itself gets a decent amount of use throughout the year. With physical buttons and wiring, they can wear down with the connections eventually becoming unreliable. Sensors can also stop sensing when a contact has been made. Therefore, physical buttons tend to wear out more quickly.
By comparison, an air switch has a simple button that gets depressed which then sends a puff of compressed air down the hose to be received by the power unit. The process doesn't require a series of moving parts all the way along the process that can potentially wear out.
Safety
It goes without saying that electrical switches when combined with sometimes wet or soapy hands from doing the washing up or simply washing vegetables, is a danger factor. It's all too easy for a drop of water to get released from the hand, have it drip onto an electrically connected garbage disposal hardwired switch and hey presto! Moisture has entered the system with all the risks that entails.
With an air switch – any model that we've careful reviewed below – this is ruled out. This is because there's no actual electricity or electrical wire connection to the button that you depress on the countertop or sink area. It's not connected at all.
The compressed air that gets sent down through a tube does the work for you and this is unaffected by moisture. So, there's nothing to make it unsafe for your kids or yourself to activate the garbage disposal (and young ones can get a sense of pride from doing so, get curious how things work and may become grown up engineers later in life).
Length of the Hose
The passageway that the compressed air travels down through is the air hose. It creates the physical link between the button at the top and the device that once activated, turns on the garbage disposal unit.
The hose will sometimes use different materials and thicknesses. This has a bearing on longevity. It is usually positioned under the sink, so must be long enough to reach down. Similarly, the device to activate the disposal is likely to be lower to the ground and nearer both the power outlet and the garbage unit itself. Therefore, the longer the hose, the better. Also, the more durable the hose, the better too.
Button/Switch Design
Some models come with a single button color and appearance. Other manufacturers provide many different colors and finishes to their air switches which helps the button better match the existing kitchen décor or countertop/sink fittings.
Single or Dual Outlets
The power units have either a single or a dual outlet. A single outlet only powers one garbage disposal unit. For a dual outlet, one outlet will power the garbage disposal whereas the second one may trigger another installed kitchen system too. With some dual systems, they can run both kitchen equipment simultaneously whereas with others, it's necessary to choose and turn one or other on/off under the sink first.
Here are our top 4 garbage disposal air switches Reviews:
Essential Values Garbage Disposal Air Switch
DUAL OUTLET Sink Top/Counter Top Waste Disposal On/Off Switch
The Essential Values air switch for Waste King and Insinkerator waste disposal units is the solution to having to use electrically connected disposal switches. This version uses an attractive mix of Satin with Brushed Nickel to give a classy look with the button along with its distinctive chrome sheen (there's a choice of 3 different finishes to match with your décor). The hose is made of tough vinyl which is six feet in length; good enough for almost any placement of the switch compared to the location of the rest of the unit below.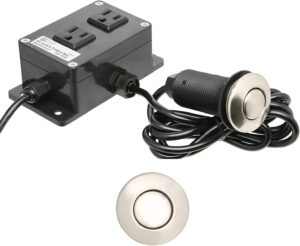 There's a dual outlet aspect to this affordable product. Because of this, a second air switch can be added as well. The way the power is setup, it's only possible to have one or another outlet powered up at one time. This avoids trying to run two systems off the one unit and burning it out.
Cleesink Garbage Disposal Air Switch Kit
The Cleesink air switch provides support for your garbage disposal using its air switch activator. The appearance of the Cleesink is a pleasing brushed stainless steel. This model isn't as fancy or feature package as the Essential Values one before it, but this is why it provides value for money for people on a budget.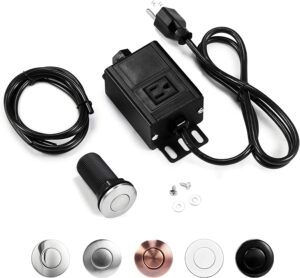 The hose is closer to five feet than six feet. That shouldn't be a problem, but you can measure under the sink with a tape measure if you're worried. We wouldn't be. There's a short and long version which refers to the button length when depressing it. It also surprisingly that it has two connections to hook up two different kitchen systems to allow them to be turned on/off. Also, depending on which version you select, there's a selection of different colors and finishes beyond the initial brushed stainless steel one.
When owning a kitchen with a very specific finish, then this product is interesting because it's probably possible to more closely match the right button color to the countertop finish. The power cable for the device is three feet long too.
InSinkErator STS-00 Dual Outlet Sink Top Switch
The InSinkErator STS-00 comes with two outlets to connect two different kitchen systems like a hot water heater or a garbage disposal. Obviously, the brand reputation as the biggest brand in the garbage disposals' market speaks for itself. The power module permits you to hook up two different systems; disposals or otherwise. The chrome and white coloration of the bottom is distinctive. There's an air line that's six feet in length and durable too. The power cable from the power unit is 2.5 feet long to install the unit on the wall and still reach to the power outlet.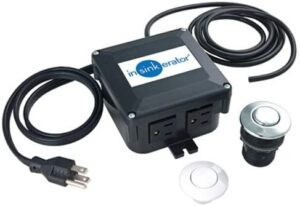 The quality is certainly there with the InsinkErator switch. You know you're buying something that'll last. However, the price reflects what you're getting. After all, this company invented disposal products in 1927. There's also no worries about compatibility if you already own an InsinkErator disposal unit as they're designed for them (but work with other disposals too).
Single Outlet Garbage Disposal Turn On/Off Sink Top Air Switch Kit
Northstar Décor provide this single outlet air switch for garbage disposals. It comes with a reliable power module that doesn't risk overload from multiple outlets. There's a six feet air hose which provides with the ability to connect to the air switch above the countertop. You can choose from up to four different air switches designed to suit various appearances and shapes of holes through a countertop. These include scalloped, square, round and raised. The raised one is a raised button to depress as opposed to one that's flush and gets depressed below its outer ring. There's also up to 24 different color finishes to get an even better match the countertop surrounding where the air switch will be fitted.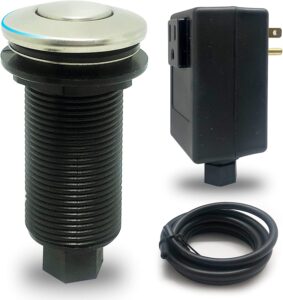 There is good information provided by Northstar Décor on this product. It has by far the best series of options available for color selection, air switch design and so forth. It makes for a good alternative to other well-known brands.
Conclusion
A garbage disposal air switch is more expensive than a push button type, but it's far safer for anyone to use. For people at all concerned about electricity and personal safety, it makes absolute sense to replace the button that came with their garbage disposal and install an air switch using a kit. It's something that doesn't really require a plumber to do either, in most cases. Just follow the right process, get some light under the sink so you can see what you're doing and turn off the electrical power before you start.