Best Waste King Garbage Disposal Reviews 2022
There are two giants in the garbage disposal industry. One is InSinkErator and the other is Waste King. While InSinkErator was the company that started it all way back before World War II, Waste King is no spring chicken. They've been making garbage disposals for nearly half a century themselves. In that time they've learned a thing or two about quality and they've put that knowledge to work in their L-2600 Legend Series 1/2 HP continuous feed disposal. Below we're going to take a close look at what makes this disposal tick. Starting with the things it does right and a few things we think it could do better.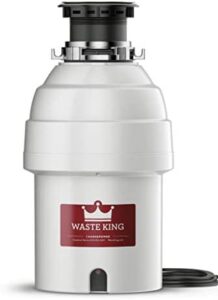 Pros
The 1/2 HP Vortex Motor – The L-2600 is so named because its Vortex motor cranks out an impressive 2,600 rpms. This motor is engineered using the permanent magnet model that enables it to produce enormous torque. That feverish amount of torque means it's not going to be deterred from reducing the toughest food waste to dust and slurry in seconds.
The Lack of Noise – Anyone familiar with garbage disposals knows they are capable of taking over the kitchen while they're in operation. You flip the switch and conversations cease until the disposal is finished. Not the L-2600. Its grind chamber is fashioned from glass nylon material that actually absorbs sounds rather than just bouncing them around like a steel chamber will do.
The Efficiency of the Grind – As we mentioned the L-2600 produces tremendous torque. This enables it to pulverize pretty much anything in its path quickly and effectively. Whereas some other garbage disposals rely on a multi-stage grind system to gradually reduce tough material to a manageable level the L-2600 doesn't need that. As such it's faster and more efficient.
The Ease of Installation – While installation of the L-2600 isn't quite as simple as it is for some of the InSinkErator models it's not much harder either. Essentially if you could install an InSinkErator you can install the L-2600. It uses the same basic "twist on" locking mechanism of the InSinkErator. And that's great. If you're going to copy someone after all, copy the best.
Reliability – The L-2600 is made from durable, corrosion-resistant materials with a stainless steel grind mechanism that's built for the long haul. The disposal also provides a 5 year limited warranty.
Cons
Energy Consumption – While the L-2600 does an efficient job pulverizing most food waste that effectiveness comes at a price. The motor, being as powerful and determined as it is, it uses more electricity than many other mid-sized garbage disposals. Not so much that it's going to send you to the poor house. But enough of a difference to be noticeable.
Jamming – While the unit has swivel impellers designed to minimize the chances of a jam they don't seem to work as well as they do on some other garbage disposals. This is not a deal breaker but it's something we'd like to see them improve on.
Best Features and Uses of the Waste King L-2600 Garbage Disposal
The Waste King is a highly affordable best garbage disposal. So you might think that means the feature set will be wanting a bit. Well, you'd be wrong. The L-2600 features include:
Compact Design – Waste King understands that not everyone has tons of space under their sink. So they typically produce disposals that take up just as much space as needed and no more. That's the case here too. The L-2600 is a svelte 6.8 inches in diameter and only 13.5 inches tall.
Continuous Feed – Like most garbage disposals today the L-2600 is a continuous feed disposal. That means you can add food waste to it while it's running. You won't have to keep turning it on and off like you would with a batch feed disposal.
Stainless Steel Grind Mechanism – The grinding mechanism on the L-2600 is tough as nails. It's fashioned from high grade stainless steel which means it's no match for even the toughest waste. Being top grade stainless the teeth aren't going to succumb to corrosion either.
Lightweight Construction – Many home garbage disposals can tip the scale at 14 or 15 pounds or more. The L-2600 by comparison weighs a very agreeable 7.8 pounds. The incredible lightweight construction aids in making it one of the easier disposals to install.
Integrated Power Cord – Some garbage disposal manufacturers who will remain nameless refuse to supply power cords for their units. Waste King however, does the right thing and provides their L-2600 with an integrated, heavy duty 36 inch power cord. Thank you Waste King.
Powerful Vortex Motor – As we mentioned above the L-2600 get its name from its rugged, high torque, 2600 rpm, 1/2 HP, permanent magnet motor. The permanent magnet configuration compels the motor to continue pushing forward even when it encounters resistance that might cause other motors to grind (so to speak) to a halt.
Quiet Operation – The glass nylon grinding canister, the precision cut stainless steel grind mechanism and permanently lubricated bearings all work to create a disposal that's remarkably quiet. This is particularly impressive when you consider how tough and determined the motor is.
5 year Warranty – If anything goes wrong with the unit within 5 years of the date of purchase the company will replace it for you at no cost. The L-2600 has a secondary lifetime warranty against corrosion made possible by the glass nylon construction of the grind canister.
Extras – The L-2600 also offers a front mounted reset button and a removable splash guard that keeps food debris in the disposal where it belongs during use.
Conclusion
The L-2600 from Waste King is a great value that provides the average homeowner with all the power and durability they're ever likely to need in a garbage disposal. It's also quiet, very easy to install and comes with a limited 5 year warranty. You can pay 3 times as much for a disposal. The only question is, why would you when you can get the L-2600 and its rich feature set for so much less?
Waste King Legend Series L-3200 Garbage Disposal Review
Waste King has been making garbage disposals for some 50 years. They're one of the giants of the industry. Below we're going to put their L-3200 disposal under the microscope to find out if it's everything the marketing makes it out to be. We'll start with some pros and cons.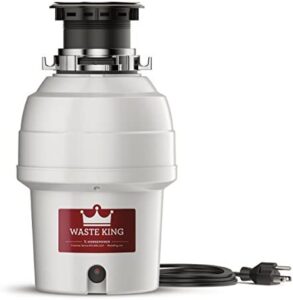 Pros
The Powerful Motor – At 3/4 HP this is one of the more powerful motors you'll find on a continuous feed garbage disposal. It's a no-nonsense permanent magnet motor endowed with a ton of torque. As a result you won't hear it whining as it tries to tackle gristle or small bones.
It's Pretty Quiet – With such a powerful take-no-prisoners motor you might assume the L-3200 is pretty loud. But you'd be surprised. The unit is lined top to bottom with sound absorbing insulation making it one of the quieter garbage disposals on the market.
Stainless Steel Grind Components – Part of the reason the permanent magnet motor is able to make such short work of tough food waste is because the grind components are fashioned from high-grade stainless steel. This ensures they're always the hardest thing in the disposal and also prevents the type of corrosion that destroys lesser disposals.
The Integrated Power Cord – For some reason we can't figure out some garbage disposals do not include power cords. To us, this is like selling a circular saw without a power cord. It's essential equipment. Fortunately, Waste King doesn't play power games and the L-3200 comes with an integrated 36 inch power cord.
The EZ Mounting System – There are a lot of garbage disposals on the market. Many claim to be easy to install. The good news here is that the L-3200 actually is. It's not a case of removing it from the box, snapping onto the underside of your sink and plugging it in. But on a good day it's reasonably close. (More on this below)
8 year Warranty – The L-3200 comes with an 8 year warranty on parts and build quality. That's one of the best in the business.
Cons
Setup Issues – While we don't ever expect a garbage disposal to snap into place in seconds the unit we tested didn't want to hook up with the mounting ring. It took quite a while and a half dozen tries to get everything properly locked into place. Once in place everything worked fine. But still. We expect a bit more from an "EZ" mounting system.
Small Opening – Once you install the disposal and go to use it you're likely to be struck by how small the opening is. Is it useable? Sure. But the opening is noticeably smaller than what you'll find on most home garbage disposals. Not quite sure why they would do something like that on just one model. But it is what it is.
Best Features and Uses of Waste King Legend Series L-3200 Garbage Disposal
It's easy to assume that, because a disposal occupies the budget end of the spectrum, that it will be short on features. That's not the case with the L-3200 however.
Sound Shell Technology – By "Sound Shell" the company is referring to the layer of insulation that envelopes the grind canister and motor. It sounds like a silly marketing cliche but it's actually pretty effective at soaking up sound waves. The result is one of the quieter 3/4 HP disposals on the market.
3/4 HP Motor – Speaking of that 3/4 HP motor… Like the motors on some of their other disposals the L-3200 motor is built on the permanent magnet model. This enables it to produce generous amounts of torque that keep is plowing forward when other motors gets caught in the gristle. Because of this there's no need for the 2 or even 3-stage grinding setups used by some of its competitors.
36 inch Integrated Power Cord – We mentioned it before and we'll say it again, there's no reason every garbage disposal shouldn't come with a power cord. Some don't however. And this can lead to all kinds of problems down the line if the power cord you install yourself isn't done perfectly. Fortunately the L-3200 is one of them and for that they deserve a special pat on the back.
Dishwasher Compatibility – Lots of food typically winds up in the dishwasher regardless of how thoroughly we think we're rinsing our plates. For that reason it's always a plus if you can channel the food-laden dishwasher effluence directly through the garbage disposal. This helps prevent clogged drains. Not all garbage disposals allow you to do this. The L-3200 does.
Stainless Steel Grind Components – If you've ever taken apart an old disposal you have likely noticed that the grinding components are often enveloped in rust. Some of the teeth may have broken clean off due to corrosion. A grind mechanism fashioned from stainless steel components however, will resist rust and corrosion and will likely outlast the motor itself. Corrosion resistant components will also prevent the need for service calls.
Continuous Feed – Disposals are either continuous feed or batch feed. Most homeowners will opt for continuous feed because it gives them the ability to switch on the disposal and drop waste into it as it's produced. With a batch feed you need to wait until you get a fair amount of garbage in the disposal before you engage it. This can lead to unpleasant smells in the kitchen.
8 Year Warranty – There's no accounting for how Waste King determines the length of the warranty on different models. Some are as short as a year. The good news here is that the L-3200 comes with an impressive 8 year warranty on build-quality and parts.
Conclusion
The Waste King L-3200 meets all the criteria of an outstanding value. It's affordable, it's durable, it's (relatively) easy to install, it offers an array of useful features and it's covered by a very generous 8 year limited warranty. Is it perfect? Of course not. But the number of things it does well far outnumber its relatively minor drawbacks. This makes it an easy recommend for the budget conscious homeowner.