More than 50% of homes in the US today have garbage disposal. But it was anything but an overnight success. For a long time, there was official resistance to disposals from municipalities worried they would clog sewer systems with food waste. (New York City, for instance, didn't lift its prohibition on disposals until 1997.) Thankfully, skepticism regarding garbage disposals is largely a thing of the past and almost anyone that wants one today can have one.
Top 5 Best Garbage Disposal Brands Comparison Chart
#######
Garbage disposals have changed the way we cook, the way we clean up and made our homes sweeter smelling, more hygienic and less likely to attract pests. But there are scores of disposals on the market today and not all are created equal. As such, choosing the right one for your home can be something of a challenge. To help you sort through the clutter we've selected what we believe to be the 5 best garbage disposals on the market today. Here they are.
Let' Look At Top 5 Best Rated Garbage Disposal
1. InSinkErator Evolution Essential 3/4 HP Garbage Disposal
If you haven't replaced your disposal in good long time the first thing you're likely to notice about the InSinkErator Evolution Essential is how quiet it is. Yes, garbage disposals have come a long way in the past 20 years when it comes to sound reduction and the Evolution Essential is at the head of the quiet pack. The next thing you're likely to notice is how easy the thing is to install. Again, progress. In the past, you might have had to consider hiring a plumber or electrician to install your garbage disposal. Not anymore. InSinkErator leads the way inconvenience with their much-ballyhooed "twist on twist off" installation system.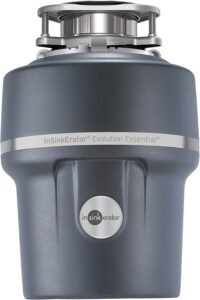 Product Features
Quiet performance with SoundSeal Technology.
Large 40 oz grind chamber.
3/4 HP Dura-Drive motor.
Powerful two-stage grinding mechanism.
Simple "twist-off twist on" installation.
6-year in-home warranty.
The Evolution Essential boasts a generous 40-ounce grinding chamber, which helps you speed the cleanup process after a big meal. The 3/4 HP Dura-Drive motor isn't messing around and will tear through some of the toughest debris quickly and effectively. Just be careful not to get carried away by the volume and overload it. The Evolution Essential features a 2-stage grinding mechanism which is the real key to its efficiency. The first stage breaks the waste down into manageable chunks and the second stage reduces those smaller bits into an organic slurry that rinses easily away down your pipes.
Like all InSinkErators the EE comes with a multi-year in-home warranty. In this case, it's 6 years. "In-home" means just that. If you have a problem with the appliance the company sends a technician to your house to perform repairs while you wait. No having to disconnect the disposal and send it away. Or having to take it to some authorized repair shop in the next state. If it breaks they come to your house and fix it. Nice.
Pros
The two-stage grinding makes short work of the toughest food waste.
Maybe the easiest garbage disposal to install.
SoundSeal Technology produces significantly quieter disposal.
It's hard to beat the "we come to you" in-home warranty.
Cons
For some reason, they don't supply a power cord.
2. Waste King L-8000 Garbage Disposal
With its robust 1 HP electric motor that Waste King L-8000 is one of the most powerful continuous feed garbage disposals in its class. Remarkably, in spite of that big, bad Vortex permanent magnet motor it still manages to be fairly light at only 14.5 pounds. And quiet too. Although not as quiet as some InSinkErator. If you regularly cook for larger crowds we're pretty sure you're going to appreciate the speed with which that big 2800 rpm motor gets food waste out of your way. So you can get on with other things like entertaining.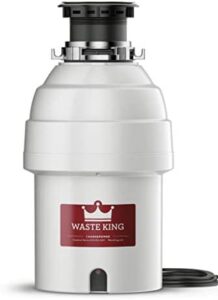 Product Features
Powerful 1 horsepower, 2800 rpm motor.
No electrical work required for installation.
Includes a built in power cord.
Wall switch activated continuous grind disposal.
20-year limited warranty.
Unlike some competitors, Waste King does the honor of integrating a power cord right into the disposal. That saves you a lot of time, hassle and expense since power cords aren't necessarily cheap. It can be installed by any reasonably competent DIYer in just a matter of minutes. Another big plus with the L-8000 is that the grinding chamber is made of glass-filled nylon rather than steel. That's a big plus because it won't rust. And that should (in theory anyway) extend the life of the appliance.
We mentioned that it's not as quiet as some competitors. But we don't want you to get the wrong impression. It's not noisy. And it won't drown out your conversations while it's working. We also have to mention the design of the unit. Waste King obviously put some effort into making the L-8000 sleek and attractive. This isn't some gruesome, hulking piece of machinery. It's got a slick, contemporary look that will allow it to fit in nicely in the most stylish of kitchens. And finally, with a 20-year warranty, you get long-term peace of mind.
Pros
With a 1 HP motor, this is one of the strongest continuous feed disposals.
Like the InSinkErator Evolution, it's very easy to install.
They've put some effort into making it reasonably attractive. If that matters to you.
The 20-year warranty is among the best in the business.
Cons
The splash guard can interfere with your efforts to feed the disposal.
3. InSinkErator Evolution Excel Garbage Disposal
If you're looking for a garbage disposal that's both incredibly powerful and quiet you should start your search with the Evolution Excel by InSinkErator. Reading garbage disposal reviews are much easier if you are looking already know what are you looking for. With a 1 HP Dura-Drive electric motor, a 40-ounce grind chamber and Sound Seal technology keeping an eye on the decibels, the Excel is built to handle whatever you want to feed into it. It's more expensive than many other home garbage disposals. But it's also more powerful, more reliable and quieter. It's fair to say that it can likely handle just about any type and volume of waste the average household will produce.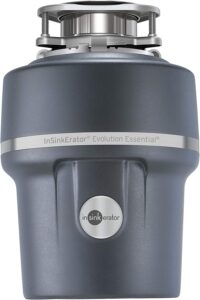 Product Features
Powerful 1 HP Dura-Drive electric motor.
Auto-reverse grinding system.
InSinkErator Quick-Lock installation.
Integrated jam sensor.
3 stage grinding technology.
SoundSeal for super-quiet operation.
7-year in-home warranty.
Some folks will look at the 1725 rpm produced by Excel and raise their brow. It doesn't seem like a very impressive number. Not when you have other disposals producing twice that. But the Excel has something those other disposals don't have. And that's a 3-stage grinding mechanism that breaks down waste in easy-to-handle stages that negates the need for crazy rpm levels. This is also one of the reasons the Excel is so much quieter than other 1 HP disposals. Because the motor isn't whirling away at insane speeds.
The Excel has an integrated jam sensor that detects when something is creating unhealthy levels of resistance. It stops the motor and initiates auto-reverse that clears the obstruction and then continues on its merry way. In all honesty, you may still have to clear the obstruction yourself. But at least the motor won't burn itself out trying in vain to cut through something that shouldn't be at the disposal, to begin with. And that should save you breakdowns.
Pros
There isn't much that is going to defeat the 3 stages grinding system.
The large 40 oz container enables fast cleanup.
The integrated jam sensor shuts the unit down so it doesn't burn out.
Cons
Once again InSinkErator leaves us without a power cord.
One of the more expensive home disposals on the market.
4. Waste King L-111 1/3 Hp Garbage Disposal
In some ways, the Waste King L-111 is the polar opposite of the InSinkErator Excel. Where the Excel is expensive the L-111 is very affordable. Where the Excel has a powerful 1 HP motor the L-111 has a relatively tame 1/3 HP motor. Where the Excel is fairly large the L-111 is compact. Where the Excel snaps into place in a few minutes the L-111 can be a more involved installation. So why would anyone bother with the L-111? Because many people don't need anything close to 1 HP. They also aren't scared off by a little installation work and they don't have a lot of space under their sinks to install big disposal.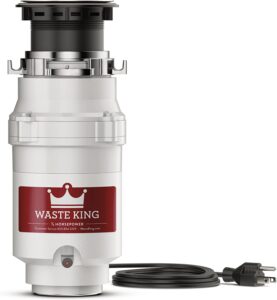 Product Features
1900 rpm 115v permanent magnet motor.
Integrated power cord for easy installation.
Removable splash guard.
Requires 1.5 inch drain pipe connection.
Continuous feed, switch activated.
If you typically cook for yourself or maybe one other person chances are you don't need a big powerful garbage disposal. In that case, the Waste King L-111 should suit you fine. The motor is small but it produces an impressive 1900 rpm. At that speed, its stainless steel grinding components are able to chew through just about anything in a reasonable amount of time. The smaller motor is also quieter than some of its bigger competitors and it has glass-filled polyester bearings that never need lubricating and promotes quiet operation.
The L-111 motor also features permanent magnet construction. This provides it with a kind of rock steady determination that enables it to reduce even tough materials to mush and pretty much eliminate jams. We'd recommend the L-111 for those who don't normally produce a lot of food waste or don't have a lot of space under the sink.
Pros
We always appreciate that Waste King provides a power cord.
It's less expensive than many of its competitors.
Although the motor isn't that powerful the grinding mechanism is very efficient.
An affordable choice for budget-conscious homeowners.
Cons
This is a relatively compact unit so you have to be careful not to overload it.
Not as quiet as some larger InSinkErator units.
5. Waste King L-2600 Garbage Disposal
The last unit on our list of garbage disposal is the L-2600 from Waste King. The L-2600 features a 1/2 HP permanent magnet motor which produces a lot of "torque", for lack of a better term. By that we mean it is not intimidated by tough materials. Instead, it powers through them with little hesitation, making a higher rpm rate unnecessary. The L-2600 is a switch activated continuous feed garbage disposal that's easy to install and comes with an integrated power cord to facilitate that installation.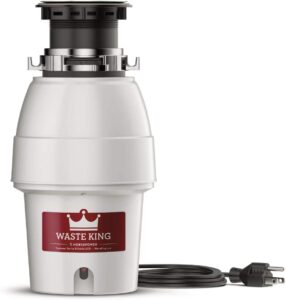 Product Features
1/2 HP permanent magnet motor.
EZ mount technology installs in minutes.
Integrated 36-inch power cord.
Wall switch activated continuous feed disposal.
Stainless steel grind components.
Compact and durable.
The stainless steel impellers in the L-2600 are averse to jamming and they get all the backup they need by way of that permanent magnet motor. Installation is relatively easy. Although you may have to make a few tweaks to your setup if you're replacing older disposal from a different maker.
For the most part, though the L-2600 is providing hassle-free operation. It will make short work of just about any food waste, (within reason), and offers an optional sink stopper and a splash guard that help prevent accidents and unwelcome escapees from the grind container. This is an affordable, well-built medium-size garbage disposal with a decent 5-year limited manufacturer's warranty. Read more
Pros
The 2600 rpm motor breezes through most food waste.
When they say it has jam-free impellers they mean it. Hardly ever jams.
Mounting is fast and can be done by virtually any capable adult.
The reasonable price and compact size make it a value winner.
Cons
Not as powerful as some of the other disposals out there.
The Benefits and Uses of Garbage Disposals
In the days before home garbage disposals became commonplace a large proportion of the trash sent to the sidewalk for the collection was food waste. This caused the trash cans to stink to high heaven, made them extremely heavy and attracted raccoons, mice, squirrels, flies and a host of other pests. The garbage disposal eliminated most of those problems and is truly one of the unsung heroes of the contemporary kitchen. The following are some of the most obvious benefits of garbage disposal.
Shortens cleanup time – If you don't have a garbage disposal in your kitchen cleaning up after a meal can be a time-consuming pain. With garbage disposal in place, you simply dump most of your food waste down the drain and the disposal turns it into a kind of organic slurry that is carried away. You finish cleaning up faster and have more time for more important things.
A fresher smelling kitchen – In the days before the garbage disposal food waste was a common source of foul odors in the kitchen. This was especially true during the red hot days of summer. The garbage disposal puts an end to foul kitchen odors as well as those ripe smells that used to drift in the window from the trash cans.
Less trash – Speaking of trash cans we mentioned that food waste used to make up a lot of the trash that wound up at the curb waiting to be picked up. Trash cans full of food waste could be notoriously stinky and heavy too. The garbage disposal means fewer trash cans at the curb. And the ones that are there are cleaner, smell better and are lighter.
Fewer visits from the plumber – Even though most people were pretty careful not to let food waste go down the drain in the kitchen some would invariably get through. Food in the pipes meant clogs in the drain and visits from the plumber. With disposal in place, you'll eliminate both a major inconvenience and a major expense.
It's environmentally friendly – Rotting food waste used to be a major source of greenhouse gases in cities. Now that many homes have garbage disposals the amount of methane being released into the atmosphere because of putrid food waste has been reduced significantly. Each home that installs garbage disposal contributes to reducing these harmful gases.
It's cost-effective – Garbage costs money. There are garbage bags to buy, broken trash cans that need to be replaced, pest control and of course those oh-so-expensive visits from the plumber. If the pet manages to get in the garbage they may wind up at the vet as well. When you consider how little a disposal costs, how long they last and the costs they eliminate they're the cost-effective answer to garbage.
Disposals are the common sense answer to the problem of food waste. There are so many different sizes and models on the market today that there is sure to be one that is perfect for your home. Install one now and start reaping the benefits as soon as you plug it in.
What are Different Types of Garbage Disposals?
There are essentially two different kinds of home garbage disposals on the market today and they are the continuous feed and the batch feed. The two differ in how they approach processing food waste and they can differ pretty significantly in price as well. Once you know the difference between the two types of disposals you can make an informed decision regarding which one is right for you. So let's take a close look at both.
Continuous Feed Disposals
With a continuous feed, the disposal is going to continue to grind until the user shuts it off. It's really that simple. Turn it on, dispose of your food waste in an orderly fashion and when you're done, turn it off. Without a doubt, most home garbage disposals are continuous feed. But, like most things, this type of disposal has both strengths and weaknesses. They are:
Pros
They're incredibly easy to use. You simply feed modest amounts of food waste continuously into the disposal until it's all gone.
They allow you to keep a nice clean work area since you can dispose of waste as soon as it's generated.
You have a pretty incredible variety of continuous feed disposals to choose from.
Cons
Unfortunately, people tend to forget to turn them off. This wastes energy and shortens the life of the disposal.
The longer the disposal is operating with the water running the more water you're using and paying for.
Forks, knives, and spoons have a habit of accidentally finding their way into the disposal. When this happens it makes a sound like no other and can damage the blades of the disposal.
Batch Feed Disposals
While continuous feed disposals are by far the more popular, there are plenty of batch feed disposals in use as you read this. The batch feed disposal works on a different principle than the continuous feed. With the batch feed, you fill the disposal and then put the cover in place. Once in place either turn the cover or depress a central plug to activate the disposal. When the grind is complete remove the cover and the motor turns off. As we said they're not as popular as continuous feed disposals but there are plenty of people that won't use any other type. Why? Because:
Pros
They typically use less electricity since you don't run them as long.
They typically consume less water as well because you do a short grind and turn them off.
You'll never accidentally drop a utensil into the disposal through the cover.
Because the grind chamber is covered it tends to be a bit quieter than continuous feed disposals with their open tops.
Cons
They're more expensive than continuous feed disposals because the motor is typically larger. It needs to be because it has to grind a large batch of food waste all at once.
They can get smelly because some folks will let food accumulate in the disposal for a day or more. They want to have a full batch before they use the disposal.
Conclusion
Garbage disposals have come a long way in the past 20 years. Today, they're more energy-efficient and dependable than ever. While at the same time being more powerful and quieter. That's a neat trick and a considerable feather in the cap of the engineers who design them. The best garbage disposal also provides a wealth of benefits including faster clean up after meals, a sweeter smelling, more hygienic house and less trash needing to be carted to the curb. The 5 disposals above are a representative cross-section of the best disposals on the market. Whether you need something big and powerful or smaller and more discreet one of them should fit your needs to a T.
Related Products:-