Top 2 InSinkErator Garbage Disposal Reviews 2022
The Badger line of garbage disposals is trusted by more homeowners than any other. They're powerful, no-nonsense disposals that are virtually maintenance free and priced right. The Badger 1 continuous feed disposal features the company's Dura-Drive induction motor that doesn't back down from the toughest food waste, as well as the company's much-praised "twist on" installation. Let's start this review by looking at its advantages and disadvantages.
Pros
Large Grinding Chamber – The Badger 1 features a 26 oz grinding chamber that is sure to be more than enough for the average family. Since it's a continuous feed disposal you're not going to wait until the chamber is stuffed before you switch it on. So the odds are you will never come close to filling it up.
Quick Lock Sink Mount – All InSinkErator garbage disposals feature their Quick Lock Sink Mount setup. This reduces the time necessary to install the disposal itself to just a few minutes. While it's a little more complicated than "twist off twist on" as the company advertises it's still simple enough that any reasonably capable homeowner can handle it without having to call a plumber.
Dura-Drive Motor – The Dura-Drive induction motor on the Badger 1 is tough as nails. You might think that because it's "only" 1/3 HP that it would need a 2-stage grinding system to compensate. But not the Badger 1. This motor produces enormous amounts of power for its size and isn't the least bit intimidated by tough food waste.
Ultra-Quiet Operation – The Badger 1 features InSinkErator's SoundSeal technology. This produces a disposal that hums quietly in the background, instead of rattling and clanging and taking over the kitchen. It's a thing of beauty and the kind of feature that sets the company apart from much of the competition.
In-House Service – Another thing that sets InSinkErator apart from the competition is their warranty. While most companies insist you send the product to them to have it repaired InSinkErator comes to you. They maintain a nationwide network of nearly 1,500 high-trained technicians that respond to customer needs. They come to your house, effect any necessary repairs and your kitchen operation never skips a beat.
Cons
Forget the Bones and Grease – While the Badger 1 is a hungry little machine it's not built to handle large chicken bones or lots of grease and fat. While there are garbage disposals on the market that have no problem shredding bones, this isn't one of them. And too much fat and grease is just going to gunk it up and eventually cause a breakdown.
1 Year Warranty – Some other InSinkErator garbage disposals cover you with up to 7 years of in-home service. For some reason we can't quite understand you only get a year with the Badger 1. While we appreciate the year we would like to see them extend that a bit.
Uses and Features of the InSinkErator Badger 1
Like many of its InSinkErator cousins, the Badger 1 comes with a pretty impressive list of features including:
1/3 HP Induction Motor – While it's going to gag on larger bones the 1/3 HP induction motor will make short work of just about anything else you cast down the drain. It's an aggressive little motor that likes to prove itself and does so over and over.
26 oz Grind Compartment – It's not the largest on the market but it's large enough to handle whatever the average sized family is going to produce in terms of food waste. Even on those food-heavy holidays like Thanksgiving.
Lightweight Construction – At a measly 12.7 pounds the Badger 1 is one of the lightest mid-sized garbage disposals on the market. This makes installation all that much easier and also reduces stress and strain on the bottom of your kitchen sink.
Quick Lock Sink Mount – This mounting system has earned widespread praise and deservedly so. While it's not as simple as taking it out of the box and twisting it on, the unit can nonetheless be installed in about 10 minutes by an average homeowner who can follow a few simple directions.
Jam Buster Wrench – Every Badger 1 comes with a Jam Buster wrench. Should the unit shut itself down due to a jam just follow the simple steps laid out in the instruction manual to clear the jam using the Jam Buster wrench. You'll be back up and running in just a few minutes.
Dishwasher Drain Connection – This is a feature that's missing in a lot of garbage disposals. Especially ones like this that occupy the budget end of the price spectrum. Happily the Badger 1 has the dishwasher drain connection and it only takes a couple minutes to complete the setup.
36 inch Power Cord – Maybe InSinkErator has heard the legitimate complaints of their customers who have been asking for years why they don't include a power cord with their garbage disposals. Maybe they just put somebody new in charge of the program and that person said "Hey, we should include power cords". But whatever the reason we're just glad to see that the Badger 1 comes with its own 36 inch power cord.
For a budget-friendly  best garbage disposals the Badger 1 has one of the most impressive feature lists in the business.
Conclusion
The Badger 1 from InSinkErator is affordable, dependable, quiet, ruthless in its abilities and super-easy to install. It's the kind of kitchen appliance that makes the contemporary kitchen the marvel that it is. When we look at that feature list and consider how easy it is to install and maintain and then balance all that against the price we have to be impressed by what an outstanding value proposition it represents. You can pay a lot more for a garbage disposal. You can find garbage disposals with larger grinding canisters and more powerful motors. But it's unlikely you're going to find a garbage disposal that provides a better combination of performance and reliability at this price.
InSinkErator Badger 5, 1/2 HP Garbage Disposal Review
InSinkErator was the first disposal brand introduced to the home market way back in 1940. In the nearly 80 years since, they've become the largest selling brand of garbage disposals in the world. Their Badger line of disposals has always been one of their most popular and this 1/2 HP Garbage Disposal is a good example of why that is.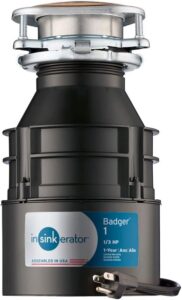 Pros
Ease of Installation – All contemporary InSinkErators feature the company's "twist off twist on" installation. And while it's never quite as easy as all that it nonetheless shouldn't take more than a few minutes to have your new Badger 5 in place. There's no need to call a plumber and no need to involve an electrician.
Galvanized Steel Construction – The Badger 5 is fashioned from rugged, rust-resistant galvanized steel. Galvanized steel is known for its corrosion resistant properties and for being reasonably light and strong. The result is a disposal that's tough as nails and should last a good long time.
Powerful Motor – The Badger 5 has a 1/2 HP induction motor that features the company's DuraDrive Technology. This provides the grinding system with the power it needs to reduce even bone and tough gristle to tiny pieces of effluence in seconds. This in spite of the fact that it's a single stage grinding system.
Speaking of the Grinding System – That single stage grinding system isn't the result of engineering laziness. It's a patented state-of-the-art system that utilizes the company's GrindShear ring. That ring of grinding teeth sports an innovative design that doesn't back down from anything and doesn't need a backup stage to finish what it started.
In-Home Warranty – InSinkErator is unique in that it offers warranties of various lengths that all include in-home service of your disposal. The exact length of the warranty you get will depend on the InSinkErator model you buy. In the case of the Badger 5 you get 2 years of in-home repair and service from the company's network of nearly 1,500 highly trained specialists.
Cons
No Grease Please – If you want to prompt a call to one of those service agents load up your Badger 5 with a lot of grease and fat. Because, while it can reduce chicken bones to dust in seconds it doesn't really know what to do with big wads of fat. They tend to accumulate inside the mechanism and eventually interfere with its operation.
Not Very Quiet – Some InSinkErator garbage disposals are incredibly quiet. Unfortunately, that's not the case with the Badger 5 disposal. While it's not going to drown out your conversations while it's running you might have to speak up a bit to be heard clearly. Fortunately, it works quickly.
No Power Cord – For some reason known only to the powers that be at InSinkErator they don't include a power cord with most of their garbage disposals. This seems like something they could easily and cheaply remedy. Why they choose to not to is something of a mystery and the only real black mark against the brand.
Features and Uses of the InSinkErator Badger 5 1/2 HP
The Badger 5 has an impressive feature set that makes it a smart choice for most average kitchens. Those features include:
A Dura-Drive 1/2 HP Induction Motor – This is one of their toughest and most dependable motors.
A Large Grinding Chamber – While it's not the largest on the market the 26 ounce grinding chamber is still large enough for most multi-person households.
Dishwasher Compatibility – This is a little-appreciated feature that you won't find on every garbage disposal. Refuse from the dishwasher is fed directly into the Badger for disposal.
Robust Construction – The Badger is fashioned from galvanized steel, stainless steel, high-impact plastic and rubber. All materials that are going to stand the test of time.
Anti-Jamming Features – The motor is designed to power through the gnarliest of materials. But should a jam occur the unit will shut itself down and you can clear the jam using the "jam buster" wrench that comes with the disposal.
Assembled in the USA – Not everything is put together in far off lands. InSinkErator is proudly assembled in the US.
And of Course the Hassle Free Installation – We've said it before and we'll say it again. InSinkErators are rightfully praised for their ease of installation.
The Badger 5 is also remarkably light at just over 13 pounds. So you don't have to be a weight lifter to install it.
How to Install the InSinkErator Badger Garbage Disposal
InSinkErator was one of the first companies to address the issue of garbage disposal installation in a meaningful way. They recognized the absurdity of having to call a plumber who will often charge several hundred dollars to install a device that typically costs less than $100. Their solution was the Quick Lock Sink Mount system.
The Badger comes with drain and disposal mounting rings, a tailpipe, tailpipe gasket, stopper and easy to follow instructions. The most difficult part of the installation is likely to be the removal of the existing disposal. (Unless of course that old disposal is another late model InSinkErator.) Once you have removed it you can go ahead with the Badger 5 installation.
Attach the mounting ring to the underside of the drain and tighten the fastening screws.
Install the tail pipe gasket onto the side of the disposal.
Slide the fastening flange onto the discharge tube.
Secure the discharge tube to the tail pipe connection on the disposal.
Connect the dishwasher drain hose (if applicable) to the pipe above the tail pipe.
Connect the power cord to the disposal.
Now move under the sink.
Line up the mounting tabs with the up ramps on the mounting ring on the drain.
Rotate the mounting ring on the disposal until the mounting tabs lock into position.
Attach the discharge pipe to the drain pipe.
Plug in the disposal.
Don't forget to run some water through it to test for leaks before using it to process food waste.