Moen Garbage Disposals Reviews 2022
Moen has been around for more than 80 years We are going to elaborate moen garbage disposal reviews. The company was started by Al Moen, a former mechanical engineering student at the University of Washington. After burning his hands on a two-handle faucet one day in 1937, he came up with a design for a one-handle faucet which he and many others considered far safer. Though Al Moen is long gone, the company he founded still makes some of the most acclaimed faucets in the industry.
Over the years, Moen branched out to address other aspects of the kitchen environment, including the design and manufacture of garbage disposals. Moen disposals are highly regarded for their leading-edge design, ease of installation, low maintenance, power, and energy efficiency. They are also affordably priced, reliable and some might say, even attractive. When you purchase a Moen garbage disposal, you can be reasonably sure it's going to provide years of trouble-free service. And, if something should go wrong, you can also be sure the company will stand by their warranties, which are some of the best in the business. Moen produces a wide variety of garbage disposals for residential and commercial use. Too many in fact to cover them all here. What we're going to do instead is review 3 of their best known and most popular models.
1: Moen GXS75C GX Series 3/4 Horsepower Garbage Disposal
Features
3/4 HP 2,700 rpm.
Rugged stainless steel grind compartment.
Universal X press mount system.
Sound Shield noise dampening.
Integrated power cord.
Weight 10.25 pounds.
6 year manufacturer's warranty.
The BSX75C GX is a continuous feed disposal that features a permanent magnet vortex motor that won't shy away from the toughest food waste. It's built to exacting specifications and incorporates the company's Sound Shield technology which makes it one of the quietest mid-size disposals on the market today. With the Universal X press Mount system, it's also one of the easiest to install and should be well within the capabilities of any DIYer.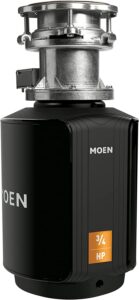 Unlike some garbage disposals (too many really) the 75C GX series comes with an integrated power cord. And at only 10 pounds it's going to be compatible with most sinks. The 75C GX also has a nice, streamlined profile that allows it to fit into tight spaces under the sink where other 3/4 HP disposals simply wouldn't be able to fit. While it's not the most powerful Best garbage disposal on the market, it should be perfect for couples or small families. And the 6 year limited manufacturer's warranty means you can rest easy knowing that in the extremely unlikely event something goes wrong, you're covered.
2: Moen GXP50C GX PRO Series 1/2 hp Garbage Disposal
Features
1/2 HP, 2,600 rpm.
Continuous feed design.
Corrosion resistant grind compartment.
Permanent magnet Vortex motor.
Sound Shield noise dampening.
Universal X press 3-bolt mounting.
Ultra-slim profile.
Weight 8.5 pounds.
The GPX50X GX Pro 1/2 HP garbage disposal is perfect for small households – or moderately sized households with little space beneath the sink. This is one of the sleekest garbage disposals you'll find, and yet it provides outstanding power and reliability. The 50X GX Pro can be installed by any reasonably competent do-it-yourself-er in less than an hour thanks to the ultra-simple Universal X press Mount system.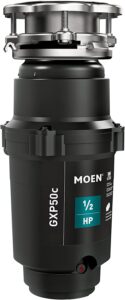 The 1/2 HP 2,600 rpm Vortex permanent magnet motor resists jamming and is very smooth and quiet. And yet it's tough enough to handle anything that should be in a garbage disposal. It has the integrated power cord we love to see. Along with a corrosion-resistant galvanized steel canister/grind box. The installation kit has everything you need to set it up. Including sink flange, drain elbow, mounting assembly and drain stopper. There's also a 3 year limited warranty to help you sleep a little easier.
3: Moen GX50C GX Series 1/2 Horsepower Garbage Disposal
Features
1/2 HP 2,600 rpm.
Continuous feed disposal.
Permanent magnet jam-resistant motor.
Stainless steel grind compartment.
Universal 3-bolt mounting.
Pre-installed power cord.
Safe for most septic tanks.
Weight 9.25 pounds.
The GX50C 1/2 HP Garbage Disposal features a large canister, stainless steel grind compartment and Sound Shield noise dampening. That alone is plenty of reason to consider it for your small to mid-sized household. But it's got more than that going on. It also shares many of the best features with the other disposals on this list, including the Universal Express Mount system, the pre-installed power cord and the permanent magnet Vortex motor that scoffs at tough food byproducts.
It comes with everything you need to install it in about an hour, and it's safe to use with most septic tanks. If you're looking for a rugged, quiet, low-maintenance disposal that's built to last and quiet as can be you can't go wrong with the GX50C 1/2 HP.
More Related Articles:-